When:
December 11, 2021 @ 3:30 pm – 10:00 pm
2021-12-11T15:30:00+03:00
2021-12-11T22:00:00+03:00
Where:
Punda Milia Paradise Bar and Restaurant
Malindi Road PO Box 1664
Mombasa
Contact:
Chrissie
+254 743 758 279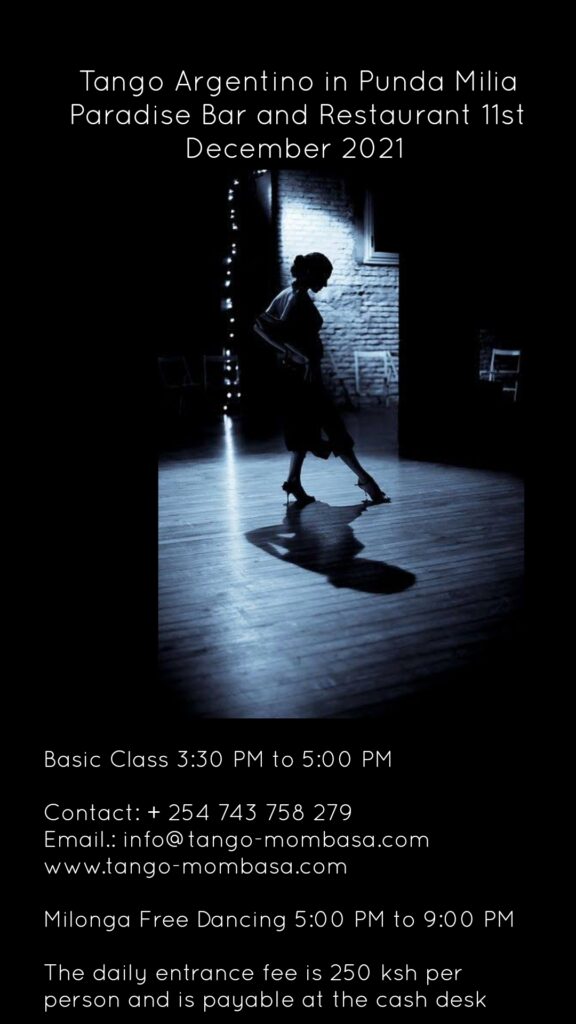 Hi guys, I hope you are all healthy and Corona free.
The next milonga will be on Saturday 11 December at Punda Milia Paradise Bar and Restaurant.
Who is interested in dancing Tango Argentino on the 11th of December in the afternoon?
Everyone is welcome, including people who have not danced Tango Argentino before.
As I have to plan, please let me know by 09 December whether you can come or not.
Dear tango dancers, please bring your men/girlfriends to this milonga.
The milonga will start when 4 people have registered.
With kind regards Chrissie
Contact: + 254 743 758 279
Email.: info@tango-mombasa.com
www.tango-mombasa.com    
Click the link: Route description